The mouthpiece has a dramatic effect on the sound produced by an instrument. Even if you cannot afford to buy a new instrument, you can significantly improve your sound by upgrading your mouthpiece. (Saxophone and clarinet players may also want to consider a different ligature when purchasing a new mouthpiece.)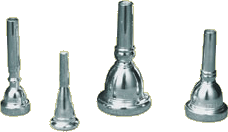 Instruments rented or sold by Ellis Music include a "stock" mouthpiece. These are "middle of the road" mouthpieces, designed to work adequately for a variety of playing situations. Individuals who play casually or infrequently often use these mouthpieces and are satisfied. However, experienced musicians may eventually find themselves held back by the limitations of the mouthpiece. The size of the mouthpiece opening or depth of the mouthpiece cup affect how easily high and low notes are produced and also influence volume and tone quality. For example, a first-chair trumpet player who needs to play frequent high notes will often be better served by a shallower mouthpiece, as this may help with endurance and the ability to make the sound cut through the rest of the band.
Mouthpiece selection is a very personal decision. What works for one person may not work for another. For this reason, it is recommended that you try a variety of mouthpieces before purchasing one. Ellis Music stocks a variety of popular mouthpiece brands, including Selmer, Bach, Yamaha, Vandoren, Otto Link, and Meyer. Please call in advance to check the availability of these mouthpieces if you want to try them at Ellis Music.