Instrument Note Charts
Available for a variety of instruments, these charts show the fingerings (or in the case of the trombone, slide position) for each note. Charts courtesy of Conn-Selmer.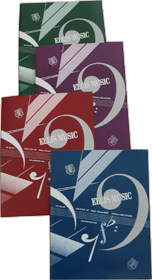 Music Scholarships
Ellis Music presents a $300 scholarship annually to six students in grades 9-12, one from each of Vermont's six music districts. Download the 2014 District Scholarship Application here.
The $1,000 Richard W. Ellis Scholarship is presented annually during the Vermont All State Music Festival to a senior who is pursuing a career in music. The Richard W. Ellis Scholarship form is available as part of the All State Music Festival handbook, which can be downloaded from the All State section of the VMEA web site: www.vmea.org/allState.php.
Facts and Research about Music Education
To read about the numerous benefits of studying music, we recommend the website SupportMusic.com.