Instrument Note Charts
Available for a variety of instruments, these charts show the fingerings (or in the case of the trombone, slide position) for each note. Charts courtesy of Conn-Selmer.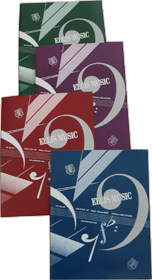 Music Scholarships
Ellis Music presents a $300 scholarship annually to six students in grades 9-12, one from each of Vermont's six music districts.
The $1,000 Richard W. Ellis Scholarship is presented annually during the Vermont All State Music Festival to a senior who is pursuing a career in music. The Richard W. Ellis Scholarship form is available on page 68 of the 2013 All State handbook
( http://vmea.org/allstate/forms/13ASHandbook.pdf )
Facts and Research about Music Education
To read about the numerous benefits of studying music, we recommend the website SupportMusic.com.